This cheat for Pokemon White [Nintendo DS] has been posted at 14 Mar 2011 by Love95Legendz and is called "Kyurem". The Cheat have a rating 7 by 9 our users and has been commented 7 times. Also 10 users added this cheat at them cheatbooks. If cheat is usable don't forgot thumbs up Love95Legendz and share this with your freinds. And most important we have 54 other cheats for Pokemon White, look them as soon as possible!
Secret - Kyurem
Location: Giant Chasm
North of Route 13, you'll find a new area called the Giant Chasm. When you enter, this area is filled with forestry, but when you come near the lake in the middle, you'll hear a screech and the whole area flash freezes. Go to the north and you'll find the Dragon/Ice Pokémon Kyurem in a cave.
Kyurem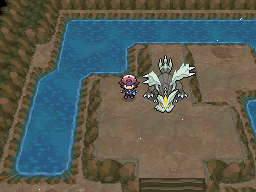 Level 75
OT:
Yours
ID:
Yours
Ability:
Pressure
Hold Item:
None
??? Nature.
Date of Receiving
Giant Chasm. Caught at Lv. 75
Glaciate
Dragon Pulse
Imprison
Endeavor
Comments
More

Pokemon White Cheats

:
Sorry, to fulfil this action you have to be CheatsGuru User
Login/register with FaceBook!
• Moshi Monsters cheats, Android • Plants vs. Zombies cheats, NDS, XBOX 360, PS3, IPHONE, Android • Pokemon Heart Gold Version cheats • Pokemon Soul Silver cheats • The Lord of the Rings: War in the North cheats, XBOX 360, PS3 • Shogun 2: Total War cheats • BioShock Infinite cheats, XBOX 360, PS3 • Darksiders 2 cheats, XBOX 360, PS3 • Call of Duty: Modern Warfare 3 cheats, PC, NDS, WII, PS3 • Elder Scrolls V: Skyrim cheats, XBOX 360, PS3 • Torchlight II cheats • Borderlands 2 cheats, XBOX 360, PS3 • Temple Run cheats • Jagged Alliance: Back in Action cheats • XCom: Enemy Unknown cheats, XBOX 360, PS3