Table of contents
| | | |
| --- | --- | --- |
| 1 | | 8 |
| 2 | | 7 |
| 3 | | 5 |
| 4 | | 2 |
| 5 | | 1 |
| 6 | | 0 |
| 7 | | 0 |
| 8 | | 0 |
| 9 | | 0 |
| 10 | | -1 |
| 11 | | -3 |
| 12 | | -4 |
| 13 | | -7 |
Show table of contents
Filter
Grand Theft Auto: San Andreas Cheats :
This page contains Grand Theft Auto: San Andreas cheats list for Playstation 2 version. Now we have 43 cheats in our list, which includes 5 easter eggs, 13 glitches, 25 secrets. We hope information that you'll find at this page help you in playing Grand Theft Auto: San Andreas on Playstation 2 platform. If you didn't find needed cheats
put request
or
ask question
about this at special section of the game. Also you can subscribe on all new cheats that we'll find for you in the future!
eaSy money
this isnt exactly a glitch but its close In Los Santos there should be a lot of people walking round wearing black vests and pants with there hands in front of them usaly waiting round. If you look closely some people from your gang come up to them and ask them for stuff. If you walk up to them they would usualy turn around and there will be a box in the corner saying soemthing about replying possitvely/negatively. KILL THAT GUY!(BEWARE HE HAS A PISTOL AND IF YOU AIM AT HIM INFRONT OF HIM HE WILL SHOOT YOU!)After killing them you will see that the guy is stashed with a lot of cash. The cash amounts to aproimately $2K. That is because he is a Drug Dealer.
Also there are guys wearing white hoodies. They are also Drug Dealers. thx for reading try it and plz reply or give a thumbs up or down
ChEats warning.
Cheats can be fun to use, but don't use to many of them. If you enter 450+ cheats before you get to the mission "Madd dogg", you won't be able to complete the game. Madd dogg will jump off the roof instantly making it impossible to catch him. You can view how many cheats you have entered on the "Misc" menu in "Stats".
HoW to get gangsters into your houses.
1) Recruit some gang members. (Target them with R1, then press up on the directional pad)
2) Enter your house.
3) Call them to you. (Press up on the directional pad)
4) Walk into the save game icon. (Do not save the game)


Now the gang members should have spawned near the save game icon in your house.


Note: You can do the same thing with pedestrians. Just enter the following code: Down, Square, Up, R2, R2, Up, Right, Right, Up.
SeCret pay n spray.
There is a hidden Pay n spray in Las Venturas. It isn't marked on the map and you can fall through it when you enter it.

Here is the location of the Pay n spray on the map: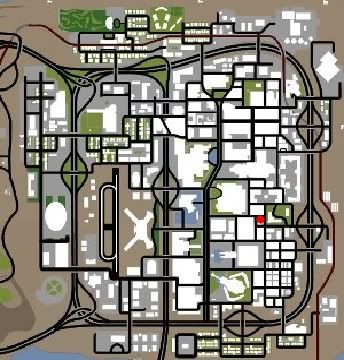 deAd guy standing
by
Unregistered
Sep 04, 2008
when you go to the ammuntion in the 1st island with the shooting range go inside and blow the guy that sales you guns up with satchel and he should be dead standing there with 2 pistols and you can still target and shoot him and blood comes out.
NO HEAD
1. FIND 2 PLAYER BLIMP AND START 2 PLAYER(MAKE SURE U HAVE A MACHETTE)
2. THEN PLAYER 2 CHOP OFF PLAYER 1'S HEAD
3. DONT START ANOTHER 2 PLAYER GAME
4. THEN U CAN RUN AROUND WITH NO HEAD
(IF U SAVE THEN TURN UR PS2 OFF U WILL HAVE TO DO IT AGAIN)
ALSO WORKS ON X-BOX
blUe heaven
ok first you have to go from your first safehouse on the first island and go to the gym.
then you need to go in [make sure you have a jetpack cheat] and right when you get in the gym use the jetpack cheat. fly up and there you are. PLEASE READ THE BAD PART THOUGH!!

BUT BE AWARE THAT YOU CANNOT GET BACK OUT!!!!!!!!!!!!!!!!!!!!!!!!!!
BoNe County: Underworld:
Get a parachute and go to your safe house in Fort Carson. Save the game here to avoid having to get a parachute and traveling Fort Carson all over again if a mistake is made. Leave your safe house and go northeast to Bone County. Go to the Lil' Probe Inn bar. The Lil' Probe Inn is just north of the train tracks and directly across the road from a small mobile home trailer park. Lil' Probe Inn will display on the map area notification when you enter its area. Go inside the Lil' Probe Inn building. Look at the light hanging from the ceiling that is just behind the pool player. Jump towards the light as if you were going to climb it like a wall. It may take multiple attempts but eventually you will jump above the Lil' Probe Inn and be looking down at it. You will also notice a pitch black void surrounding it. Jump off the north side of the Lil' Probe Inn into the black void and immediately deploy the parachute. Press CJ's weight back so that he descends at the slowest rate. When you land you will be in the "Underworld". You will only see Bone County country-styled characters because the "Underworld" is considered as being inside the Lil' Probe Inn. To move around in the "Underworld", enable the "Spawn Jetpack" code. You can now fly to Los Santos, San Fierro, and Las Venturas with some difficulty, as obstacles from the normal world will still be there but you will not be able to see them. You must wiggle about a lot to find your way. In the cities, only a very small portion of them will be available. Using the Jetpack will make it easy to find the available areas. The "Underworld" has invisible jumps and falls, making the Jetpack necessary to navigate. The only way out of the "Underworld" can be found by going to Los Santos, where the small part of the city is available in the area called Commerce. Look for the building called Atrium that has two outdoor escalators and a top section with outdoor seating with umbrellas over tables. Once you enter Atrium you can then go outside be back in the normal world of San Andreas. It is probably a good idea to reset the PlayStation2 after visiting the Underworld and not save the game.
ZA.
loTs of guns
left, right, L1, L2, r1, r2, up, down, left, right
BoNe County: Go underground in Area 69
Do the underworld glitch (at the Vinewood safehouse head north from Madd Dogg's) and fly to Area 69. Find the underground complex. Find the area where you get the Black Project, and you should see an empty long hollow room next to it. It should have red boxes at the top of the "silo". Fly underneath the empty silo then fly to the top of the silo. You should see a "cage" where the room is of the red boxes. Try to take off your Jetpack. When you do, you should land in the Black Project area or the rooms around there. Note: To do the underworld glitch, find the safe house pool. Fly the Jetpack into the corner of the safe house. Then, fly to Area 69. Also, bring weapons and armor because the SAPD officers spawn down there.
flInstons
if u know what flinstons is yea there cars with there legs sticking out well to do this find a BF injection and flip it on the ground you sould see your legs. Editers note: this may not work all the time.
BoNe County: Walk through ground
Go to your airport in the Verdant Meadows area. Find the southern hangar with the Shamal in it. Let the door open, then stand in between the two doors that close. They will begin to close on you. If done correctly, you should appear under the ground, with half of your body aboveground and half below ground. To get out, tap Square.
MaRio appears!
Now that I have your attention, here is the glitch. Randomly you may walk on water or a different colour of fire will appear!
More

Grand Theft Auto: San Andreas Cheats

:
Sorry, to fulfil this action you have to be CheatsGuru User
Login/register with FaceBook!
• Moshi Monsters cheats, Android • Plants vs. Zombies cheats, NDS, XBOX 360, PS3, IPHONE, Android • Pokemon Heart Gold Version cheats • Pokemon Soul Silver cheats • The Lord of the Rings: War in the North cheats, XBOX 360, PS3 • Shogun 2: Total War cheats • BioShock Infinite cheats, XBOX 360, PS3 • Darksiders 2 cheats, XBOX 360, PS3 • Call of Duty: Modern Warfare 3 cheats, PC, NDS, WII, PS3 • Elder Scrolls V: Skyrim cheats, XBOX 360, PS3 • Torchlight II cheats • Borderlands 2 cheats, XBOX 360, PS3 • Temple Run cheats • Jagged Alliance: Back in Action cheats • XCom: Enemy Unknown cheats, XBOX 360, PS3