Dialga_Master212's public profile
Name:

Saki :3

Gender:

Female

From:

Canada

Contributions:

4

Reviews:

0

Points:

3822

Last activity:

Jul 27th, 2010
User activity by game platforms
0%

PC

0%

PS2

0%

XBOX

75%

GCN

0%

PSP

0%

NDS

0%

GBA

0%

NGAGE

0%

X360

25%

WII

0%

PS3

0%

IPHONE

0%

N64

0%

Android
Haiis!!! 6 things i like :D 1) Ninjas 2) Albinos 3) Boxes 4) Video Games 5) Anime 6) Foxes :3 I'm totally obsessed with Naruto, Bleach, Death Note, Pokémon, Medabots, Warriors, Cirque du Freak, Legend of Zelda and Ouran High School Host Club! Brawl Code: 5371-0003-1194 THE GAME!!!!>:3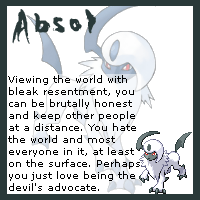 </a
Which Ouran High School Host Club member are you?
Kaoru &/or Hikaru
You are out-right mischievous. You LOVE a good prank, and generally am the one playing said trick. You are very close with a select few people, but are really loyal to them. You're way fun to be around. You're also very blunt about things. You don't like to dance around the issues, and are sometimes referred to as heartless when you're really just speaking your mind.
Click Here to Take This Quiz
Brought to you byYouThink.comquizzes and personality tests.
Dialga_Master212 cheatbook |
View all
(5)
Sorry, to fulfil this action you have to be CheatsGuru User
Login/register with FaceBook!
• Moshi Monsters cheats, Android • Plants vs. Zombies cheats, NDS, XBOX 360, PS3, IPHONE, Android • Pokemon Heart Gold Version cheats • Pokemon Soul Silver cheats • The Lord of the Rings: War in the North cheats, XBOX 360, PS3 • Shogun 2: Total War cheats • BioShock Infinite cheats, XBOX 360, PS3 • Darksiders 2 cheats, XBOX 360, PS3 • Call of Duty: Modern Warfare 3 cheats, PC, NDS, WII, PS3 • Elder Scrolls V: Skyrim cheats, XBOX 360, PS3 • Torchlight II cheats • Borderlands 2 cheats, XBOX 360, PS3 • Temple Run cheats • Jagged Alliance: Back in Action cheats • XCom: Enemy Unknown cheats, XBOX 360, PS3