MissingnoJ's public profile
Name:

Call me Leaf

Gender:

Female

From:

United States

Contributions:

6

Reviews:

0

Points:

291

Last activity:

Jul 01st, 2010
User activity by game platforms
33%

PC

0%

PS2

0%

XBOX

0%

GCN

0%

PSP

17%

NDS

0%

GBA

0%

NGAGE

0%

X360

33%

WII

0%

PS3

0%

IPHONE

17%

N64

0%

Android
This is my profile on The Pokemon Moon RPG.
You might have heard of a GiraB dude here, well he's my older brother. Unlike him, I s*ck at a lot of games. I love Missingno, but I also love Chikorita. I have a hard time understanding memes and other stuff, so please be prepared for a "What does that mean?" if you use a meme around me.
I have a real problem with people flaming me, so I ask that you use constructive criticism with me. If you don't understand the term, it means putting in suggestions on how to not make the mistake again with the criticism.
My fc on Pokemon Platinum is 4640-6662-2202 and my character's name is Brianna. I do Double Battles and Level 50, but that's all. Legendary Pokemon are allowed, but you can have a maximum of three.
If you want to battle, please PM me with your friend code, and please put in a time and date.
I have one team ready and one in training. Wins, 0. Loses, 1.
Like I said before I generally s*ck at games, but I do like to try new things. The fallowing games are games I'd like to try. Mega (Mega Mega) Man 2, Mega Man ZX Advent, Banjo-Kazzoie, Final Fantasy 7, Super Mario(o) RPG, and Earthbound.



Stats:
Gender: Female
Skills at Brawl: Minimal
Home: Texas, USA
Fears: Hights, Snakes, and most of all, ZOMBIES.
Pet Peeves: People that won't (and can) read/fallow instructions, flamers, my (lack of) SSBB skills, the word g@y being used as an insult, and training Pokemon above level 40.
Top 3 favorites (order, 3rd, 2nd, 1st)
Colors: Blue, Orange, Green.
Pokemon: Tie on 3, Aron and Celebi, Chikorita, Missingno.
Non Pokemon characters: Kirby, Yoshi, Sherlock Holmes.
YouTubers: ZeldaPlayer20, NintendoCapriSun, (Boltage) McGammer.
Pokemon I want (There will be more when Gen 5 comes out.) Celebi, Shiny Chikorita.
Wow, I wasn't even tring to get this. :P It really does fit me though.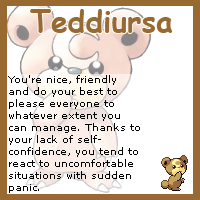 #'_'# (this is blushing) Why are these tests so accurate?
Can anyone give me a cheat for Pokemon Soul Silver that gives you every TM in the game?
Sorry, to fulfil this action you have to be CheatsGuru User
Login/register with FaceBook!
• Moshi Monsters cheats, Android • Plants vs. Zombies cheats, NDS, XBOX 360, PS3, IPHONE, Android • Pokemon Heart Gold Version cheats • Pokemon Soul Silver cheats • The Lord of the Rings: War in the North cheats, XBOX 360, PS3 • Shogun 2: Total War cheats • BioShock Infinite cheats, XBOX 360, PS3 • Darksiders 2 cheats, XBOX 360, PS3 • Call of Duty: Modern Warfare 3 cheats, PC, NDS, WII, PS3 • Elder Scrolls V: Skyrim cheats, XBOX 360, PS3 • Torchlight II cheats • Borderlands 2 cheats, XBOX 360, PS3 • Temple Run cheats • Jagged Alliance: Back in Action cheats • XCom: Enemy Unknown cheats, XBOX 360, PS3