Filter
All Cheats & Hints
Pokemon Shiny Gold Cheats :
This page contains Pokemon Shiny Gold cheats list for Game Boy Advance version. Now we have 10 cheats in our list, which includes 2 cheats codes, 1 unlockable, 1 glitch, 6 secrets. We hope information that you'll find at this page help you in playing Pokemon Shiny Gold on Game Boy Advance platform. If you didn't find needed cheats
put request
or
ask question
about this at special section of the game. Also you can subscribe on all new cheats that we'll find for you in the future!
Unlockable - How to get "CUT (HM01)"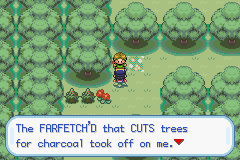 Head right and youll see a cuttable tree; well be back to deal with that. Head down and youll see the Farfetchd. Talk to it, and it will run directly left until it hits some trees.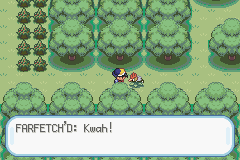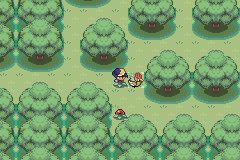 Dont talk to it. Grab the item - a revive - and go under the trees and around so youre facing it from the top and talk to it.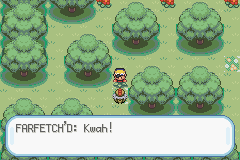 It will now be opposite you by the trees. Talk to it from below.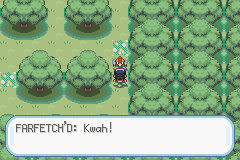 It will head up, left, then up, between those two trees. Finally, just talk to it from below again.





From here, it will head down the and block the path. Talk to it from the right, and it will head back towards the guy who lost it.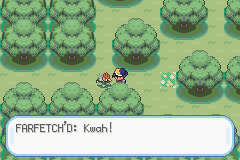 Talk to it again and the screen will darken; the Farfetchd will disappear. Head back to the first guy you saw; his boss will now be there. Talk to the new guy, and hell give you HM01; Cut. You can now cut down that bush you saw before; just teach that move to one of your Pokmon and talk to the bush.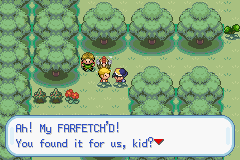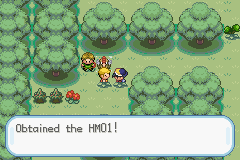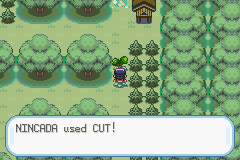 | | |
| --- | --- |
| Unlockable: | How |
| CUT (HM01) | Making Farfetch`d back to its Owner |
Secret - Pokemart
by
Unregistered
Jun 25, 2008
put "we all link together" at the questionnere at the counter. you will be given a mystery gift every time you use your saved game. it only works when you're wireless connector is coneccted. it will be seen after pressing the start at the front page (title)
Secret - Celebi the REAL way
First you beat the pokemon league then get the s.s aqua tickets from elm, fly to ovline and go the the ship beat it and ship sinks. when you get out you end up in this cave and go straight after beating team rock. there will be a g.s ball lying in the middle. get it and there will be a battle against a lvl 60 aggron. kill it or catch it. beat two kanto gyms start going to cerulean city and you will get a call from elm. go to his lab and he'll tell you to go to kurt, give him the ball came back later he'll give it back and then go to the shrine in ilix forest. get ready to battle a lvl 30 celebi.
Secret - Pikachu behind your house
all you need is the HM cut and an empty space in your party. if you look beside your house you will see a a weak tree what you can cut, use cut on that tree then go to the left end behind your house and press A then then pikachu will say pika pika then you'll have to answer yes or no. choose yes then if you look in your party you will now have a lvl 25 pikachu
Secret - Secret Pikachu
You will need cut and an empty space in your party. If you go to your house look beside it and there will be a tree that you can cut, go to it and use cut, then go behind your house to the left end and press A then the pikachu will say 'pika pika' and you'll have to answer with yes or no. Choose yes then a lvl 25 pikachu will be in your party
Code - Treecko
by
Unregistered
May 30, 2011
go to the park on the north of goldenrod city and go ahead in the grass then go right follow the fence through north then when you reach a opening there you must go then down follow it and then there must be plenty trees then find a opening there when u go inside u will reach a secret place beware there is a trainer she has a clefairy i dont know the lvl but its strong.she may give u some treecko when u defeat her.
please like this
Secret - Fight team rocket at goldenrod radio tower get director and
by
Unregistered
Nov 15, 2010
fight team rocket to stop getting involved with the goldenrod radio tower find the director he will give you a rainbow wing for your help then go to ecruteak city and you will go to the tower and ho-oh will fly down to battle
Glitch - Infinite Revives!!!
Ok, what you need to do this correctly is you need to have rock smash. Go to Cinawood city and go to the top house that has a rock behind it. Smash it and you'll get a revive. Here's the good part... after you've claimed the revive, walk forward two spaces (doesn't matter which side your on) and turn around a press "A". You should have got another by doing so. This can be done as many times as you like and if you want to do it more times after. It's a great glitch and it works 100% of the time.0

Have fun with this :) Arcane
Secret - HO-OH and a Master Ball
Ok, to do this correctly, you need to have the save file FireRed(X).GBA/, If you dont have the file all you have to do is copy the origional FireRed.GBA/ file and rename it exactly this FireRed(X).GBA. Ok you must not have fought HO-OH to do this also. when you start up with with FireRed(X), go to the area where HO-OH is located (you still need the Rainbow Wing) once you've made your way through the maze, you will encounter HO-OH (NOTE) He will be stronger due to FireRed(X). you must catch him at all costs. I suggest that you use Ultra Balls instead of wasting your Master Ball on him. Once you've caught him, check his item that he is holding. Instead of the usual Sacred Ash that he carries, you will instead have a Master Ball waiting for you.

Enjoy Arcane
More

Pokemon Shiny Gold Cheats

:
Sorry, to fulfil this action you have to be CheatsGuru User
Login/register with FaceBook!
• Moshi Monsters cheats, Android • Plants vs. Zombies cheats, NDS, XBOX 360, PS3, IPHONE, Android • Pokemon Heart Gold Version cheats • Pokemon Soul Silver cheats • The Lord of the Rings: War in the North cheats, XBOX 360, PS3 • Shogun 2: Total War cheats • BioShock Infinite cheats, XBOX 360, PS3 • Darksiders 2 cheats, XBOX 360, PS3 • Call of Duty: Modern Warfare 3 cheats, PC, NDS, WII, PS3 • Elder Scrolls V: Skyrim cheats, XBOX 360, PS3 • Torchlight II cheats • Borderlands 2 cheats, XBOX 360, PS3 • Temple Run cheats • Jagged Alliance: Back in Action cheats • XCom: Enemy Unknown cheats, XBOX 360, PS3